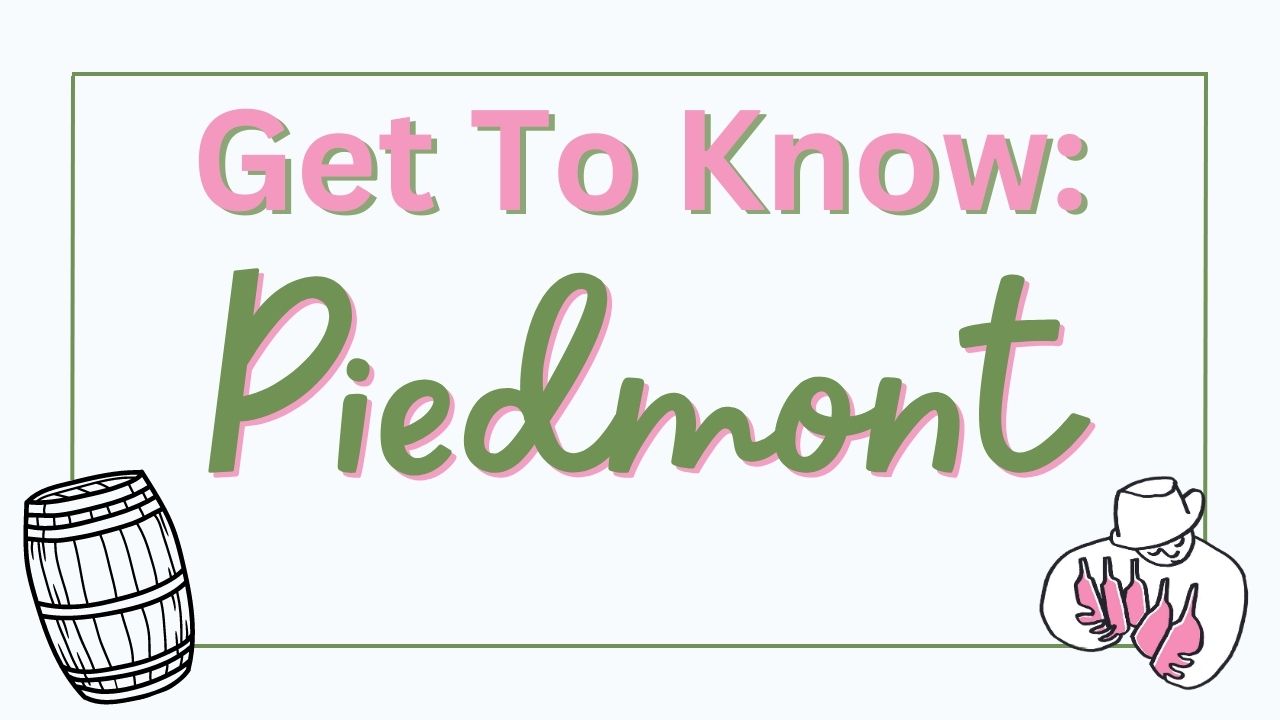 Get To Know Piedmont
What is it?
Piedmont is a wine region in the North West of Italy forming the border with France and Switzerland in the foothills of the Alps. The region is one of the largest in Italy by volume and produces both exclusive high end wines such as Barolo and also affordable table wines.
What grows there?
Sitting in the foothills of the Alps, Piedmont's continental climate is mitigated by fog and cool mountain breeze. Most of the vineyard plots are planted on South facing hills to absorb the most sunlight. With the highest lying plots getting the most sun of all they also command the highest prices.  The growing season is extended and ripening prolonged by the infamous fog of the region.  Nebbiolo, in fact, takes its name for the Italian world "nebia" meaning fog. This allows grapes more time to develop flavours resulting in complex wines. While Nebbiolo is the MVP of the region  Barbera and Dolcetto are also notable reds and Moscato and Cortese are commonly found whites.
What does it taste like?
There are many sub regions (DOCGs) in Piedmont and all have subtle differences.  But as a general guide wines made from Nebbiolo exhibit an unusual juxtaposition of a delicate floral nose and a light hue in the glass and a full bodied palate with grippy tannins and notes of tobacco and spice. With age these wines mellow out, the tannins soften and the complexity shines through.  Barbera is a highly acidic grape so expect fresh and lively wines with bright red cherry on the palate and a zippy, crisp finish. Dolcetto wines on the other hand are dark in colour, rich and smooth due to the low acidity of the grape.  Expect Dolcetto wines to show notes of blackberry, liquorice and leather.
As for the whites of Piedmont Moscato is the most famous and makes off-dry wines that range from having a light fizz (frizzante) to fully sparkling (spumante) and varying degrees of sweetness.  Expect fresh notes of tropical fruit and honey. Gavi is the next most notable white wine of the region.  Gavi wines are made from the Cortese grape and you can expect a lean dry style with crisp citrus and zingy acidity.
What does it pair with?
As there are so many different wines in the region it is hard to narrow down pairings but as a guideline: wines from Nebbiolo will work with gamey meats and hearty veggie dishes with plenty of umami. Barbera, with its fresh acidity, works with lighter meats or heartier salads.  Dolcetto with its bold and rich palate pairs well with BBQ and roast veggies.  Moscato has a light sweetness that can offset the heat of spicy foods such as Thai and the crisp acidity of Cortese lends itself to seafood dishes and summer salads.
Fun Fact:
Although Piedmont is only Italy's 7th largest wine producing region by volume it produces more DOCG wines than any other region with 84% of all production here falling under DOCG status.